Gold has once again proved that it is only master asset class amongst others. In 2020, the price of gold appreciated by a whopping 24% and was the best performing asset.
The pandemic triggered stockpiling by investors looking to protect their wealth. This, alongside supply deficits, pushed gold and palladium prices up by more than 20% this year, while silver rose 47%, and platinum 10%.
During the dips, many felt that the bull run is coming to an end. However some believers like the Central Bank of Mongolia added 23 tonnes of precious metals in 2020, a record high for them and up 7.8 tonnes from the previous year. It should be explicitly noted that the majority of the purchases were for gold. Central Banks typically hold gold as part of its foreign exchange reserves for its historic long-term returns and high liquidity.
Investment demand for gold and silver fired on all cylinders in 2020 as the U.S. Mint data shows that demand for bullion gold and silver coin reached its highest level in four years. According to its latest sales numbers, the U.S. Mint sold 884,000 ounces of gold in various denominations of its American Eagle gold coins. Physical gold demand saw a more than five-fold increase, up 455% compared to 152,000 ounces sold in 2019. Sales of gold coins reached their highest level since 2016 when the mint sold nearly 2 million ounces of gold that year. Looking at the silver market, the U.S. Mint saw its silver sales more than double compared to last year. According to the numbers, the U.S. Mint sold 30.01 million ounces of silver, up 101% compared to 2019. (https://www.kitco.com/news/2021-01-04/U-S-Mint-sees-455-increase-in-gold-coin-sales-in-2020-silver-demand-up-100.html)
So what do we think would happen in 2021?
Silver is the new gold, but this will not undermine the confidence of investors in gold. Silver is an alternative asset class that should not be overlooked.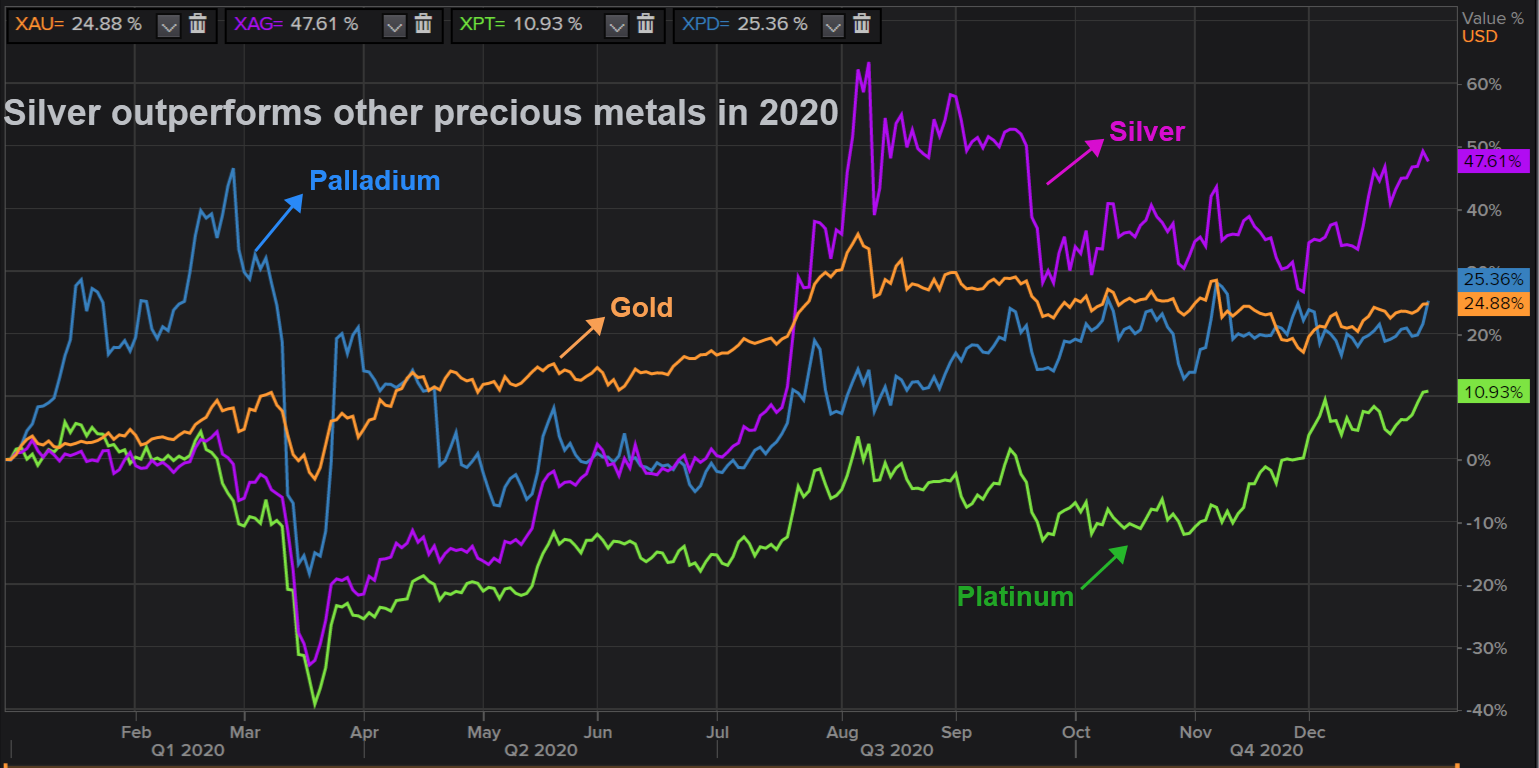 While demand for physical gold was hammered as the virus forced shutdowns, investment demand surged as reflected in the holdings of the world's largest gold-backed exchange-traded fund, SPDR Gold Trust, which recorded its biggest yearly gain since 2009 at about 30%. The future of gold is DIGITAL.
Huge government debt, negative real returns on bonds and threats of inflation and market turbulence, all of which support gold, will persist in 2021. Gold could rise another 20% next year according to prominent analysts.